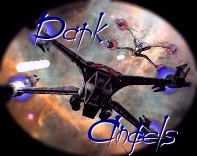 &nbsp&nbsp&nbsp&nbsp&nbsp&nbsp

Name
Callsign
ICQ Number
Rank
&nbsp Stuart
&nbsp Galen
&nbsp 45664058
&nbsp Commander
&nbsp Denzil
&nbsp Apollo
&nbsp ---
&nbsp 2nd Officer
&nbsp Sidney Lien
&nbsp Templar
&nbsp ---
&nbsp 3rd Officer
&nbsp Jim
&nbsp Dragon1
&nbsp ---
&nbsp Wingman
&nbsp Asaf
&nbsp Phantom
&nbsp 32590166
&nbsp Wingman
&nbsp Asia
&nbsp Komodo
&nbsp ---
&nbsp Wingman
&nbsp Phil
&nbsp Darkstar
&nbsp ---
&nbsp Wingman
&nbsp Matt
&nbsp Destiny
&nbsp ---
&nbsp Wingman
&nbsp Niall
&nbsp Falcon1
&nbsp ---
&nbsp Wingman
&nbsp Nate
&nbsp Melkor
&nbsp 9112261
&nbsp Wingman
&nbsp Jim
&nbsp Shalinor
&nbsp 48378099
&nbsp Wingman
&nbsp Available
&nbsp
&nbsp
&nbsp


We are Dark Angels. We oppose all those who oppose Light, Truth, and the Vengeance Fleet. We are a mix of Techno mages and pilots united in cause.


We are the nightmare that destroys evil and upholds the truths of justice and liberty. We are the fear you see in the eye of your enemy. We have been trained to strike deep and painfully into the heart of the conflict for we are DARK ANGELS.


As Pilots and Mages we use powers from beyond the rim, and thus only known to us and a few Firstones. Taught by our masters the secrets of the ancients, we have been sworn to uphold justice. Showing ourselves when we are least wanted but most needed, we strike with force of indescribable magnitude. Those who cross our path and live to tell of it only see us again in their nightmares. The secrets of the Technomages have been calling to you and that is why you have come. We hold no grudges because we have no living enemies. If you are worthy and strong enough you, too, some day may be called one of us, not just a pilot but a DARK ANGEL.